Articles that appeared in Polo Times Magazine:
> Oct 2008 Issue
> Nov/Dec 2008 Issue
> Jan/Feb 2009 Issue
> Mar 2009 Issue
> Apr 2009 Issue
9th FIP Polo World Cup 2011
ZONE D Playoffs
Malaysia, June 13 - 25, 2011
June 14, 2011
Malaysia upset New Zealand 19 - 8 in the third game of the FIP Polo World Cup - Zone D playoffs being played in Malaysia.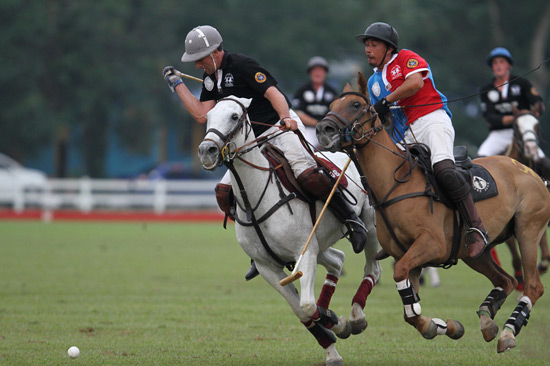 Click here for more images from the FIP Polo World Cup Zone D playoffs

Malaysia pushed themselves to the limit to snatch a narrow 9-8 win over much touted New Zealand in their opening match for a flying start to their campaign in the Asian-Australasian-African Polo Championships at the Royal Pahang Polo grounds in Pekan.

Royal Malaysian Polo Association president Tengku Abdullah Sultan Ahmad Shah, who left the royal box to stand among the Malaysian supporters on the field despite the drizzle, jumped for joy when the final whistle was blown.
"This is a very sweet victory for Malaysia. We have never played any of these teams in such a tournament before. So this win means a lot," said Tengku Abdullah, who hugged the players and team officials after the win.
"We showed tremendous fighting spirit. The players played their guts out and never gave up even when the chips were down. I hope the players can keep up the momentum for our next match which is against India.
I am very proud of the Malaysian players. I am also proud of the Malaysian supporters who turned out in full force to lend support. This is the true spirit if Malaysia."

The victory over New Zealand is all the sweeter for the Malaysians as the Asian-Australasian-Africa Championships, also serves as the Zone D Qualifier for this year's FIP Polo World Cup Finals in San Luis, Argentina, from Oct 11-25.
Huziani Yunos (Handicap 4) was the toast of Malaysia with five goals – scoring a goal each in the first three chukkas and ended it with a brace in the fourth chukka. Local boy Edham Shahruddin (4) scored two while Tengku Ahmad Shazril and skipper Shaikh Reismann scored one each.
New Zealand's Andrew Parrott (5) also scored five goal for his team while Kit Brooks scored two and Gary Vickers one.
The top three teams here will qualify for the Finals. Malaysia have set a high target to winning the title or at least finish in the top three and make their first ever World Cup Finals.
New Zealand finished runners-up at the last Qualifier held in New Zealand and made it to their first ever World Finals held in Mexico.
The match was tied at 6-6 after the third Chukka after Malaysia surrendered a 6-4 lead.

"I was very nervous when we allowed New Zealand made it 6-6 and even led 8-6. But it also brought out the best from our players. This is the sort of fighting spirit from the players that makes me proud. It is fantastic start to the tournament," added Tengku Abdullah.