June 21, 2011
India dethrone defending champion South Africa to enter the final of the FIP Polo World Cup 2011 - Zone D playoffs being played in Malaysia. India to play Pakistan in the final on Sat June 25.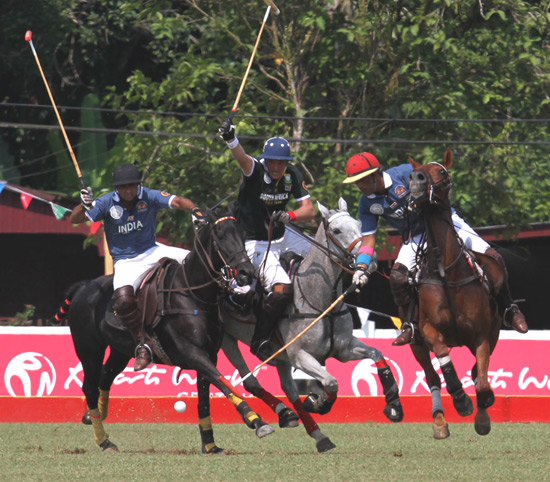 Click here for more images from the FIP Polo World Cup Zone D playoffs

India and Pakistan set themselves up a dream Indian sub-continent final in the Asian-Australasian-African Polo Championships after beating their respective semi-final opponents at the Royal Pahang Polo Grounds here today.
India dethroned defending champions South Africa with an impressive 9-5 win.
The final on Saturday and the third and fourth place playoff on Friday will be held at the Royal Selangor Polo Club in Kuala Lumpur.
India and Pakistan assured themselves a place in this year's FIP Polo World Cup Finals in San Luis, Argentina from Oct 11-25. They will be joined by in the Finals by the winners of the third and fourth placing match this Friday.
India had an ace in 36-year-old Samir Suhag (Handicap 5), who fell off his mount twice at the same spot in the third and final chukka, fired five goals and take his personal tally to 16 goals in three matches. Samir scored four goals in the third and fourth chukka and signed it off in the final chukka.

A jubilant India team manager Vikram Rathore said: "This is the best polo team India has assembled in over 20 years. We have remained unbeaten here and we are improving with every match.
"It was a good win over South Africa. We trained together for four months. India have achieved the first target...that was to make the semi-finals. Now our next target is to win the title."
It was a vain effort for South Africa's Lance Watson who scored all the five goals for his team but coach Clive Peddle has not given up hope on his team. "We still have the third and fourth place to play for and there is still one more slot for the World Cup Finals," said Peddle.

The seven-team Asian-Australasian-African Championships also served as the Zone D Qualifier for the World Cup.