June 25, 2011
India defeat Pakistan and remain unbeaten in the finals of the FIP Polo World Cup - Zone D playoffs being played in Malaysia.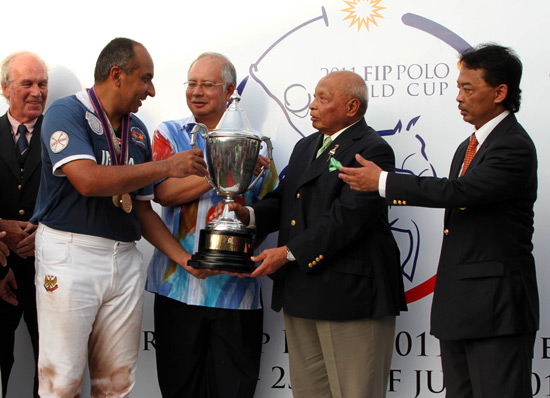 Click here for more images from the FIP Polo World Cup Zone D playoffs

India created polo history on Malaysian soil to land their first ever international polo title outside their motherland with a 12-9 win over Pakistan in the Asian-Australasian-African Championships final at the Royal Selangor Polo Club.
In the process, India also became the first country to lift the new Malaysia Cup, a sterling silver cup that is engraved with a bunga raya (hibiscus, Malaysia's national flower) motif - commissioned by the Royal Malaysian Polo Association (RMPA).

The idea of a Malaysia Cup that would serve as an Asia-Pacific Championship was mooted by RMPA president HRH Tengku Abdullah Sultan Ahmad Shah, who is also the Crown Prince of Pahang.

There was more joy for India when Samir Suhag (Handicap 5) was voted the Most Valuable Player (MVP). Samir was again in top form in the final, scoring seven goals to take his personal tally to 23 goals in the tournament.
India's other goals came through Simran Shergill (Handicap 4) who scored a hat-trick and one each by Vishal Chauhan (2) and Tarun Sirohi (3).

Pakistan's newcomer Temur Nadeem (2) was his team's top scorer with five goals followed by Ahmed Tiwana (3) with two.
The win also meant India maintained their polo supremacy over their rivals from the Indian sub-continent, having beaten Pakistan 9-6 in the World Cup Qualifier in Jaipur in 2000 to become champions and 13.5 - 11 in the 2007 Qualifier in New Zealand.

Both teams took the field with an unbeaten record. Pakistan, however, started the match with a two goal advantage due to their 12 goal team against India's 14 goal team. It turned out to be a thrilling final with some of the finest polo seen here. Things did look bad for India when Pakistan scored twice in the early minutes of the first chukka through Temur and Ahmed to take a 4-0 lead before India pulled one back through Samir Suhag. It was the goal India needed to get charged and they did it in style in the second chukka to draw level at 4-4.

India took off from there as they grew in confidence while Pakistan wilted. The champions moved confidently ahead to 6-4 in the third chukka and 10-7 by the fifth chukka. Pakistan staged a brief fight back at this stage and narrowed the gap to 10-9. But that was all that Pakistan could do against the Indian who were not ready to give go back as second best. The final whistle left Pakistan players in tears while India celebrated.

"This win is history for us. We came here with a mission and we did it in style. As I said this is the best polo team from India in 20 years. This team has a bright future. Indian polo has come of age and we will be heading to Argentina (for FIP Polo World Cup Finals) in October with confidence," said India team manager Vikram Singh Rathore.

"India had never won an international polo tournament. We look towards this win as our stepping stone for better things to come in future international tournaments. Winning here against a world class line-up means Indian polo has a bright future."

Pakistan manager Abdul Qadir Mamdot said: "We had the chances but failed to make it count. India deserves to win. They were the better side."