June 17, 2011
India dismantle Malaysia 12 to 5 thus securing a spot in the semi-finals of the FIP Polo World Cup - Zone D playoffs being played in Malaysia.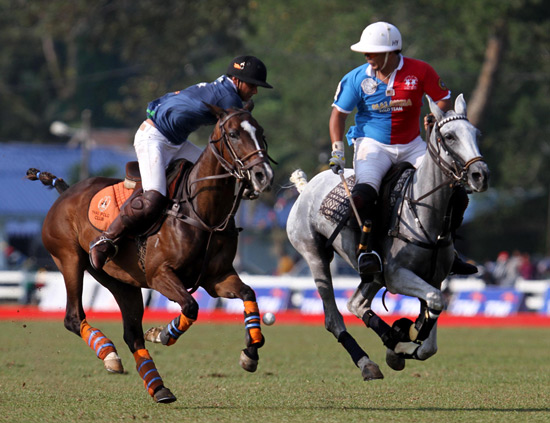 Click here for more images from the FIP Polo World Cup Zone D playoffs

After an inspiring performance against New Zealand for a win on Tuesday, Malaysia crumbled against an experienced India in their second match in the Asia-Australasian-African Polo Championships at the Royal Pahang Polo Club grounds in Pekan today with a 12 – 5 defeat.
The defeat sent Malaysia crashing out of contention for a top four finish and a place in the semi-finals. The champions, runners-up and the winner of the playoff for third place qualify go to the World Cup Finals in San Luis, Argentina from Oct 11-25. This tournament also doubles up the Zone D Qualifier for the Finals.

Malaysia coach Carlos Pando, while giving India credit for their splendid win, said it was Malaysia's off day against the Indians.
"It was not our day today," said the Argentinian. "The big defeat killed our hopes. This happens in sports and polo is no exception. India played really well and we have to accept that."

A dejected team manager Ahmad Jamili Rashid said: "The horses made all the difference. Everyone could see that India had better horses compared to Malaysia's. India took full advantage of the situation to beat us."
Both, Malaysia and India, fielded 1 14-goal team each. India, however, made a change to the team today, resting their No 2 Ravi Rathore (Handicap 3) and instead played Simran Shergill (4).

Malaysia could only manage to score a goal each in the first and third chukka, two in the fourth and one in the final chukka. Once again, Huzaini Yunus (4), who scored five against New Zealand, was the top scorer today with three goals - one each in the first, third and fourth chukka. Skipper Shaik Reismann and Tengku Ahmad Shazril were the other scorers.
Skipper Samir Suhag (Handicap 5), a World Cup veteran, was again India's ace with seven goals, taking his personal tally to 11 goals. Samir, 36, scored a brace each in the third and fifth chukkas and one each in the first, second and fourth chukka.
Other who got their name into score-sheet for India were Vishal Chawan (2) and Simran, who netted two each while Tarum Sirohi (3) scored one.