Oct 14, 2011
India go down fighting to Italy 12-13 in a close game on day 5 of the FIP Polo World Cup 2011 being played in San Luis, Argentina.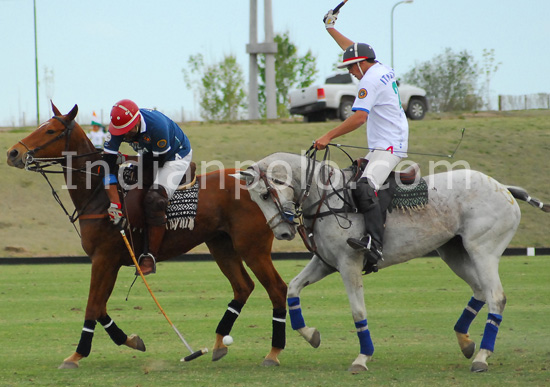 Click Here for More Images from the 9th FIP Polo World Cup 2011

Italy earned their second victory by a narrow defeat over India 13-12. The Italian team was down on the scoreboard for half the game. Only after the 4th chukker did they start consolidation their victory.

Team India started the game with one goal on handicap, but the Italian tied the game and then moved ahead in the first chukker to lead 3-2. In the very beginning of the second chukker India surprised with two big plays on offense showing aggressive play with an eye always on the rival goal and was thus that Vishal Chauhan scored two goals in a row to go ahead by 4-3.

Cutinelli Goffredo Italy's number one player suffered a fall from his horse in the second chukker luckily the player did not suffer any injury. Italy showed a lack of coordination and that was exploited by the Indian players by scoring one more goal and shortly took control of the game 5-3.

At the beginning of the third chukka was an ugly situation when an Indian player fell off his horse and hit his body hard, after being instantly assisted by the medical service could continue with the game. As the match was held up, Italy players talked among themselves, to try to regain focus. Italy scored three consecutive goals to go on to snatch the lead 7-5 in the final for the first time, in the third quarter performance of Francisco Elizaldewas highlighted.

India scored three goals and took the lead 9-7 after Samir penalty. The fourth chukker was closed with the score in favour of India 10-9.

In the last two chukkas the the game changed completely, Italy was able to accommodate their ideas and thus took control of the action of the match and managed to take the lead on the scoreboard in the sixth chukker for what would be the final score 13 - 12, In the Italian comeback, Juan Jauretche took a leading role.
India was leading by 2 goals at then end of the 2nd chukker and by 1 goal at the end of the 4th chukker. They were held goal less in the 5th chukker.

Teams/scorers:
Italy: Goffredo Cutinelli 3, Juan Jauretche 4 (3 goals), Francisco Elizalde 5 (9 goals), Manuel Elizalde 2 (1 goals): 13
India: Ravi Rathore 3 (1 goal), Vishal Chauhan 2 (3 goals), Samir Suhag 5 (6 goals), Tarun Sirohi (1 goal): 11+1 on handicap: 12

Chukker by Chukker, Italy: (0-1) 3-2, 3-5, 7-6, 9-10, 12-10 and 13-12