ZONE D Final Playoffs
Auckland Polo Club, New Zealand
Feb 26 - Mar 4, 2007

(Images and results courtesy of the New Zealand Polo Association)
Day 5, Mar 3, 2007
Tomorrow (Mar 4) is the final day of the tournament with a lot at stake for New Zealand and India. One of them will go along with S. Africa to Mexico for the World Cup Finals. Indianpolo.com will bring you all the details.
New Zealand beat Pakistan 13 - 6 on Day 5 of the FIP 2007 World Cup Zonal playoffs in New Zealand.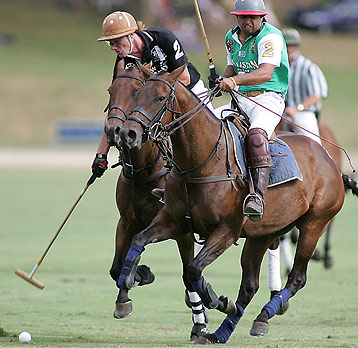 Only 2 1/2 minutes into the opening chukka of the Federation of International Polo (FIP) World Cup Zone D match between New Zealand and Pakistan, New Zealand's number 4, Tom Hunt, took a nasty fall when he was fouled by the Pakistani number 2, Raja Samiullah . Hunt's horse went down and he followed, landing heavily on his head and shoulder. Hunt was temporarily knocked out and after regaining consciousness and movement, was airlifted to Middlemore hospital for further tests and observation.
Due to the combination of the handicap of the New Zealand reserves Robert Watson had to stand down and two new players took the field, David Miller and Lochie Hunter. The game resumed with the fouled Pakistani player Samiullah standing down for the remainder of the chukka and New Zealand receiving a penalty goal.
Hunt's injury spurred the New Zealand team on to a 13 – 6 victory that they desperately required to keep them in contention to qualify for the FIP World Cup final.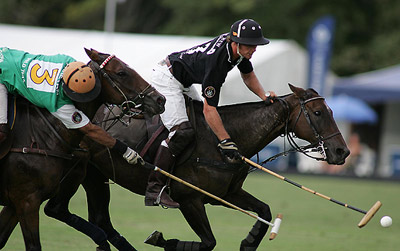 New Zealand Captain, Craig Wilson scored an impressive 8 goals and steered his team to the convincing win.
Images:
(Above) NZ vs PAK
(Right) NZ Captain Craig Wilson
New Zealand (13) – Pakistan (6)
Pakistan: Ahmed Tiwana, Raja Samiullah, Hissam Ali Hyder, Shah Qubilai Alam
New Zealand: Michael Henderson, Robert Watson , Craig Wilson, Tom Hunt, David Miller (sub), Lochie Hunter (sub)
Scorers:
New Zealand: Craig Wilson – 8, Michael Henderson – 2, David Miller – 2, Locke Hunter - 1
Pakistan: Hissam Ali Hyder – 4, Ahah Qubilai Alam – 1, Ahmed Tiwana - 1

South Africa defeated Australia 10 - 4 on Day 5 of the FIP 2007 World Cup Zonal playoffs in New Zealand
South Africa continued on their wining way beating Australia, 10 – 4. South Africa has won all three of their matches which should guarantee them one of the two available positions to go onto the FIP World final in Mexico.
South Africa's Nachi du Plessis had an outstanding game, scoring 7 of the 10 goals. The 19 year old and his team dominated the game and at the end of the 3rd chukka it was all but over with South Africa holding a commanding 9 – 1 lead.
S. Africa (10) – Australia (4)
South Africa: Gareth Evans, Nachi du Plessis, Tom de Bruin, David Jean du Plessis
Australia: Will Gilmore, Matt Grimes, Dirk Gould, Andrew Williams
Scorers:
South Africa; Nachi du Plessis – 7, Tom du Bruin – 3
Australia: Dirk Gould – 3 and Andrew Williams -1