Articles that appeared in Polo Times Magazine:
> Oct 2008 Issue
> Nov/Dec 2008 Issue
> Jan/Feb 2009 Issue
> Mar 2009 Issue
> Apr 2009 Issue
> May 2010 Issue


Details on:

Mumbai (Feb - Mar) Polo Season 2007 - 2008
Feb 16 and Mar 4 - 29, 2008
Unitech Arena Polo Match
Mar 18, 2008
Tuesday March 18, 2008
Celtics got the better of Vikings in the Unitech Arena Polo Match played under floodlights at the ARC Polo Arena at the Mahalaxmi race Course, Mumbai.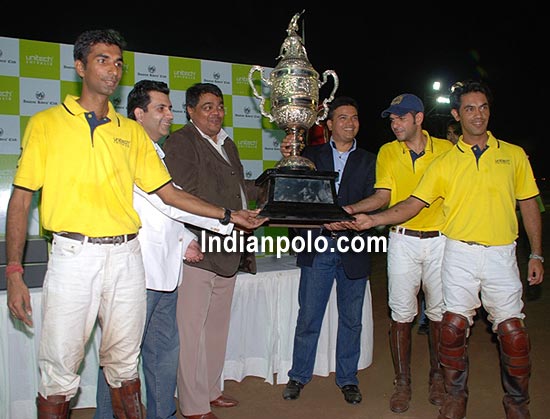 Pictures by Uday More

Polo Action shots will be added in the next day ...
Tuesday March 18 was one of the first major polo events held under floodlights at the ARC polo arena ath the race course, Mahalaxmi. The evening started off at 8:30 pm with a polo match in front of a crowd of over 500 people which included, Karishma Kapoor (whose husband was playing the match), Lara Dutta, AD Singh, Arti & Kailash Surendranath, Delna Poonawalla, Ajay & Swati Piramal, Asim Ghosh, Randeep Hooda, Rajesh & Zeba Kohli, Monica Vazirali, Madhoo, Farah Oomerbhoy,. A jazz band entertained the people before the game. The arena polo match was played between the Celtics and the Vikings. Team compositions are listed below.

Both teams played a fast paced match. As soon as one team scored a goal the other team would answer back with a goal of their own. After the first 2 chukkars the crowd got into the match and started cheering their favourite team or players. Their proximity to the players and action made a big difference. That is when the players stepped up their game. Sunjay Kapur who had flown in from Delhi was at his best in Arena polo. His team mates Samir Suhag and Ravi Rathore also played some great shots and kept the score board moving. On the other team Vishal Singh, Manupal Godara and Brian Alexander provided stiff competition, but could not catch up in the last chukkar and lost the game with a score of 9-7 in favour of the Celtics.

The game was followed by cocktails/dinner and a fashion show under the stars by designer Preeti Chandra whose outfits were showcased on the ramp by models Carol Gracias, Jesse Randhawa, Gauhar Khan, ....

It was a successful event and we hope to see more Night Arena polo matches very soon...
Score Board
UNITECH ARENA POLO MATCH
MAR 18, 2008
WINNER: CELTICS
Date
Pool
Time
Teams
Score
Winner
Mar 18
8:00pm
CELTICS Vs VIKINGS
9 - 7
CELTICS
Unitech Arena Polo March

TEAMS
CELTICS
VIKINGS
1. Samir Suhag
2. Sunjay Kapur
3. Maj. Ravi Rathore

+5
+0
+3
1. Vishal Singh
2. Manupal Godara
3. Brian Alexander
+4
+4
+1
Total
+8
Total
+9