Mumbai (Feb - Mar) Polo Season 2007 - 2008
Feb 16 and Mar 4 - 29, 2008
Man's World ARC Polo Cup (8 Goals)
Feb 16, 2008
Saturday February 16, 2008
Mumbai Warriors and Ocean's Crest drew their match and were joint winners of the Man's World ARC Polo Cup played at the polo ground in the Mahalaxmi Race Course, Mumbai.

Pictures by Uday More & Indianpolo.com

Great job.... Man's World !!!
Man's World Magazine along with Deutsche Bank continued its support for polo by hosting the Man's World ARC Polo Cup in front of a packed crowd full of distinguished guests which kept the shutterbugs clicking continuously so as not to miss a single photo opportunity. The evening started of with a jumping competition which was followed by a fashion show by acclaimed designer Narendra Kumar Ahmed with models displaying their outfits and cruising around in BMWs and motorcycles.
The polo game started off with both teams scoring 2 goals one after the other. The Ocean's Crest team was favoured to win but were unable to keep up with the Mumbai Warriors, who were leading by 3 goals. However, in the last chukker Ocean's Crest got their act together and equalised the score. There was a lot of cheering for both sides especially during the last chukker which let to an exciting finish. Samir Suhag (+5) and Lokendra Singh (+4) made sure the game was played at a good pace and along with the local ARC team members of both teams providing great action and entertainment for all the spectators.
The evening ended with everyone enjoying themselves with great food and drinks and listening and dancing to the music of a jazz band. Once again Man's World provided great entertainment, an exciting game, and a wonderful evening for everyone present.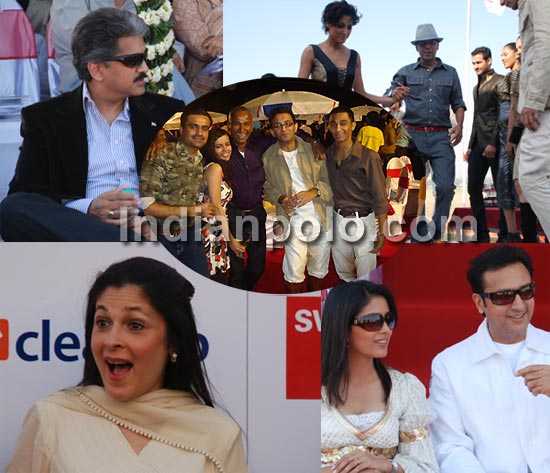 Pictures by Uday More & Indianpolo.com
Score Board
MAN'S WORLD ARC POLO CUP (8 Goals)
Feb 16, 2008
WINNER:

DRAW

Date
Pool
Time
Teams
Venue
Score
Winner
Feb 16
4:30pm
Mumbai Warriors Vs. Ocean Crest
5 - 5
Draw
Man's World ARC Polo Cup (8 Goals)

TEAMS
MUMBAI WARRIORS
OCEAN CREST
1. Shyam Mehta
2. Dinyar Madon / Brian Alexander
3. Lt Cdr AP Singh
4. Lokendra Singh
+1
+1
+2
+4
1. Mitesh Mehta
2. Harsh Piramal
3. Shyam Mariwala
4. Samir Suhag
+1
+1
+1
+5
Total
+8
Total
+8