Articles that appeared in Polo Times Magazine:
> Oct 2008 Issue
> Nov/Dec 2008 Issue
> Jan/Feb 2009 Issue
> Mar 2009 Issue
> Apr 2009 Issue
> May 2010 Issue


Details on:

Mumbai (Feb - Mar) Polo Season 2007 - 2008
Feb 16 and Mar 4 - 29, 2008
Indian Navy Polo Stick (6 Goals)
Mar 10 - 14, 2008
Wednesday March 14, 2008
Piramal and Navy final ends in a sudden death draw as both teams were unable to score in the extra chukkar for the final of the Indian Navy Polo Stick (6 goal) at the polo ground in the Mahalaxmi Race Course, Mumbai.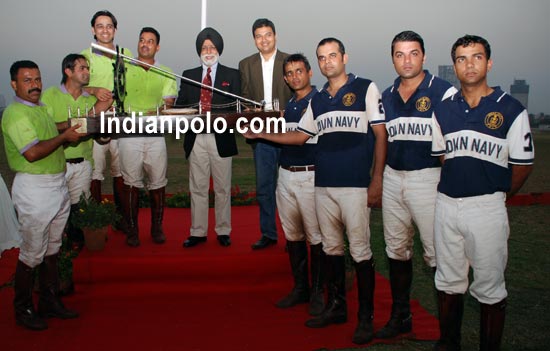 Pictures by Uday More
Both the teams played very hard against each other as Navy was the winner of the same trophy last year against the Piramal team. The Indian Navy made a great team effort with Akhil Sirohi scoring 2 goals, Vishal Chauhan also scoring 2 goals while AP Singh scored the remaining goal. For Piramal Vishal Singh scored 4 goals and Harsh Piramal scored 1 goal which took the game into sudden death overtime.

Score Board
INDIAN NAVY POLO STICK (6 Goals)
MAR 10 - 14, 2008
WINNER: DRAW
Date
Pool
Time
Teams
Score
Winner
Mar 10
A
4:00pm
Navy/Cav Vs PBG/ASC
11 - 5
NAVY
Mar 10
B
5:00pm
ARC Vs TATA
5 - 4.5
TATA
Mar 11
B
4:00pm
Piramal Vs ARC
8 - 7.5
PIRAMAL
Mar 11
A
5:00pm
PBG/ASC Vs RVC/Cav
14 - 5
RVC/CAV
Mar 12
A
4:00pm
Piramal Vs TATA
7 - 5.5
PIRAMAL
Mar 12
B

5:00pm
NAVY VS RVC/Cav

8 - 1
NAVY

Mar 14
Final
5:00pm
PIRAMAL Vs NAVY
5 - 5
DRAW
Indian Navy Polo Stick (6 Goals)

TEAMS
POOL A
POOL B
NAVY / CAV
TATA
1. Capt. Vishal Chauhan
2. Lt. Cdr. Akhil Sirohi
3. Cdr. AP Singh
4. Another
+2
+2
+2
+
1. Mr. Shyam Mariwala
2. Mr. Dinyar Madon
3. Mr. Samir Suhag
4. Mr. Rahul Dwarkadas
+1
+1
+5
-2
Total
+6
Total
+5
RVC / CAV
ARC
1. Capt. Samir Chaudhary
2. Capt. Jaideep Singh
3. Col. Sandeep Kashyap
4. Maj Ravi Rathore
+1
+1
+1
+3
1. Mr. Brian Alexander
2. Mr. Mitesh Mehta
3. Mr. Kamran Ahmed
4. Mr. Vishal Nihalani
+1
+1
+0
+2
Total
+6
Total
+4
PBG / ASC
PIRAMAL
1. Lt. Ashwini Panchal
2. Maj. Faiz Siddique
3. Maj. Raj Sangram Singh
4. Ris. Ramesh
-1
+0
+1
+0
1. Mr. Harsh Piramal
2. Lt. Col. Joginder Singh Shekawat
3. Mr. Vishal Singh
4. Another
+1
+2
+4
-1
Total
+
Total
+6

Mar 11

In the 1st match of the day ARC faced the formidable Piramal team headed by Vishal Singh. ARC started of with a 1 1/2 goal handicap. ARC was charged up after their 1/2 goal loss on the previous day and wanted to make sure that the would not lose again. For the Piramal team Harsh Piramal was substituted by Shailendra (Mickey) Singh. Vishal Nihalani continued in good form from the previous day and keept feeding his forwards. The game was quite evenly matched however Piramal managed to take a two goal lead going into the 4th chukkar. Mickey Singh, playing after a long break, played a good game. ARC through the efforts of Vishal Nihalani, who scored 3 goals, managed to catch up and even took a 1/2 goal lead with just over a minute left in the game. However, it was not their day again. A last minute foul by ARC gave Piramal a 40 yard penalty which was converted by Vishal Singh. Once again ARC lost by 1/2 a goal but it was a well fought match and the team of Vicky Nihalani, Kamran Ahmed, Brian Alexander, Mitesh Mehta deserve a lot of credit for thir performance. This is one of the better ARC teams in recent years.

In the 2nd game the teams were not evenly matched. RVC/Cav was a 6 goal team and played against a -2 goal PBG/ASC team in the absence of Sangram Singh who was substituted by Altaf. PBG/ASC started with a 4 goal handicap and managed to knock in the first goal thus leading 5-0 in the initial part of the 1st chukkar. However, that was the last goal they scored. RVC/Cav kept scoring at regular intervals through the efforts of Ravi Rathore, Samir Choudhary, Col Kashyap. In no time the game was over and RVC/Cav won by a score of 14 goals to 5.


Mar 10

In the 1st game Navy/Cav easily defeated PBG/ASC by 11 goals to 5. Navy/Cav scored at will throughout the game.

In the 2nd game ARC started with a 1/2 goal advantage and jumped to a 1.5 goal lead with Kamran Ahmed scoring a quick goal right from the throw in. Thereafter Tata woke up and equalized the score and went into the lead by 2 goals and maintained it through most of the match. The ARC team combined very well and kept pressure on tata throughout the game. In the dying moments of the last chukkar Tata led by 1/2 a goal and Samir Suhag took a hit in. ARC managed to steal the ball midway and made a run for the Tata goal but were unable to convert. Tata won the match 5- 4.5.