Mumbai (Feb - Mar) Polo Season 2007 - 2008
Feb 16 and Mar 4 - 29, 2008
International IndiaBulls Polo Test Match (14 Goals)
Mar 15, 2008
Saturday March 15, 2008
India got the better of visiting Australia Polo team in the India Bulls sponsored International Polo Test Match (14 goal) played at the polo ground in the Mahalaxmi Race Course, Mumbai.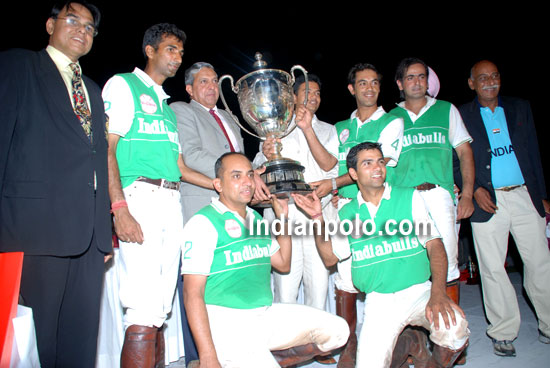 Pictures by Uday More

In a fast paced polo match India emerged winners of the International Indiabulls Polo test match. Australia started with a 1/2 goal handicap and started off with the 1st goal of the match. At the end of the 1st chukkar Australia was ahead of India. However, India equalised in the 2nd chukkar and went ahead of Australia. India kept increasing their lead and won the game with a score of 8 to 4-1/2 goals.
Scorers for India: Vishal Chauhan (2), Tarun Sirohi (2), Samir Suhag (2), Vishal Singh (2)
Scorers for Australia: Callum MaClachlan (3), Gillon McLachlan (1)
The evening started off with a India Bulls helicopter flying over the polo ground and showering rose petals. This was followed by a fashion show by Delna Poonawalla who featured riding inspired outfits, sarees and evening dresses on the catwalk. Strutting her creations were some of the top models along with some polo players and riders. The polo match was followed by a trick riding display from the Cavalry. The evening was capped off with a party on the ground with good food, drinks, live music and a great crowd.
Watch out Delhi! Mumbai is now becoming a serious contender for some of the best polo events in India.


Score Board
INTERNATIONAL INDIABULLS POLO TEST MATCH (14 Goals)
MAR 15, 2008
WINNER: INDIA
Date
Pool
Time
Teams
Score
Winner
Mar 15
5:00pm
INDIA Vs AUSTRALIA
8 - 4.5
INDIA
International Indiabulls Polo Test Match (14 Goals)

TEAMS
AUSTRALIA
INDIA
1. Mr Callum MaClachlan
2. Mr Stirling McGregor
3. Mr Richard Doolin
4. Mr Gillon McLachlan
+2
+3
+4
+4
1. Mr. Vishal Chauhan
2. Lt Col Tarun Sirohi
3. Mr. Samir Suhag
4. Mr. Vishal Singh
+2
+3
+5
+4
Total
+13
Total
+14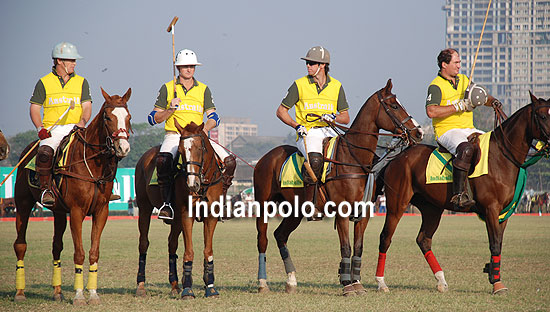 Pictures by Uday More


Click for many for pictures (50+) from India Vs Australia event
then select 20072008_Mumbai_India_Vs_Australia folder