Mumbai (Feb - Mar) Polo Season 2007 - 2008
Feb 16 and Mar 4 - 29, 2008
Artillery Cup ( Goals)
Mar 26, 2008
Wednesday March 26, 2008
Shyam Mehta's goal helped ARC draw the match with the Artillery for the Artillery Cup played at the ARC polo ground, Mahalaxmi Race Course, Mumbai.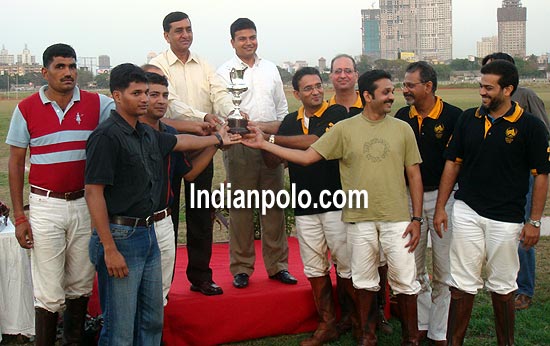 Artillery took a 3 - 1 lead in the 1st chukkar with goals by Lt Panchal, Maj Faiz Siddiqui and Maj Sangram Singh. Zahir Merchant claimed a foul and scored for ARC. Neither team could manage to score in the 2nd chukkar and the score remained at 3 -1 in favour of Artillery. In the 3rd chukkar, Dinyar Madon took the ball close from close to the spectators at the center of the ground and knocked the ball in for ARC with a great shot. Shyam had a great run at goal on the left side towards the end but was unable to convert. At the end of the 3rd Artillery led 3 - 2. Neither team could score for most of the 4th chukkar. With just 20 seconds to go Shyam Mehta got hold of the ball and took it to the Artillery goal with an under the belly shot and drew the game for ARC.

Score Board
ARTILLERY CUP
MAR 26, 2008
WINNER: DRAW
Date
Pool
Time
Teams
Score
Winner
Mar 26
4:00pm
Artillery Vs ARC
3 - 3
DRAW
Artillery Cup

TEAMS
ARTILLERY
ARC
1. Ris. Ramesh Singh
2. Lt. A Panchal
3. Maj. Faiz Siddiqui
4. Maj. Raj S. Singh
+0
-1
+0
+1
1. Mr. Sharif Furniturewala/ Mr. Zahir Merchant
2. Mr. Shyam Mehta
3. Mr. Brian Alexander
4. Mr. Dinyar Madon
-2
+1
+1
+1
Total
+0
Total
+1