Mumbai (Feb - Mar) Polo Season 2007 - 2008
Feb 16 and Mar 4 - 29, 2008
HDIL Polo Cup
Mar 29, 2008
Saturday March 29, 2008
Hawks emerged joint winners with Thunderbirds for the HDIL Polo Cup on the final day of the Mumbai Polo Season played at the ARC polo ground at the Mahalaxmi Race Course, Mumbai.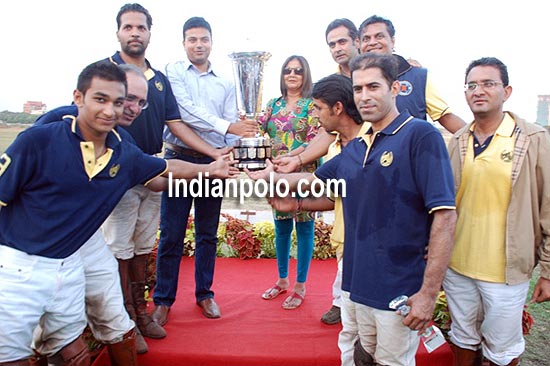 Picture by Uday More
This was the last polo match of the Mumbai 2007-2007 Polo Season. It was quite a fast paced game and the spectators enjoyed the game.
Vishal Singh opened the account for the Hawks in the 1st chukkar. In the second chukkar Lt Col Khera fed the ball to Kamran who converted for the Thunderbirds. Vishal Singh again scored for the Hawks. At the end of the 2nd chukkar Hawks led 2 - 1. In the 3rd chukkar Mitesh converted a 40 yarder for the Hawks. Thunderbirds responded with a goal by Khera. Mitesh made a good run towards the left side goal but was unable to score. Khera once again scored for the Thunderbirds. The 3rd chukkar ended with Hawks leading 4 - 3. In the last chukkar, Manupal easily converted a 30 yard penalty for Thunderbirds. Vishal got a 60 yard penalty but the ball went off a defender stick and across the sideline. Hawks were awarded a safety and Vishal made no mistake. Thunderbirds got a foul less than 3 yards from the goal and scored to tie the game at 5 goals each. With only 30 seconds remaining the Thunderbirds got the ball back and tried to make a run towards the goal but ran out of time. The game ended in a 5-5 draw.

Score Board
HDIL POLO CUP
MAR 29, 2008
WINNER: DRAW
Date
Pool
Time
Teams
Score
Winner
Mar 29
5:00pm
Hawks Vs Thunderbirds
5 - 5
DRAW
HDIL Polo Cup

TEAMS
HAWKS
THUNDERBIRDS
1. Mr. Mitesh Mehta
2. Mr. Shyam Mariwala
3. Mr. Shyam Mehta
4. Mr. Vishal Singh
+1
+1
+1
+4
1. Mr. Kamran Ahmed
2. Mr Dinyar Madon
3. Lt Col Khera
4. Mr. Manupal Godara
+0
+1
+2
+4
Total
+7
Total
+7