Articles that appeared in Polo Times Magazine:
> Oct 2008 Issue
> Nov/Dec 2008 Issue
> Jan/Feb 2009 Issue
> Mar 2009 Issue
> Apr 2009 Issue
> May 2010 Issue


Details on:

Delhi (Jan/Feb/Mar) Polo Season 2008 - 2009
Jan 27 - Mar 15, 2009
Sanawar Polo Trophy
Feb 8, 2009
Sunday February 8, 2009
Peace Stead defeated Parker Hall to win the Sanawar Polo Trophy at the Jaipur Polo Ground, New Delhi.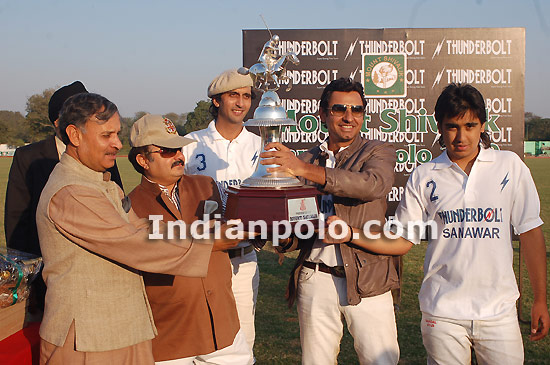 Click Here for more images from the Sanawar Polo Cup
Peace Stead emerged winners of the Sanawar Polo Trophy beating Parker Hall by 5 goals to 4 in an exciting match played today at the Jaipur Polo Ground. Rao Inderjit Singh, Hon'ble Minister of State for Defence, Brig (Retd) IS Chima, President Old Sanawarian Society and Mr Sanjeev Bali of Mount Shivalik gave away the prizes to the players.
The stand at the Jaipur Polo Ground was packed with huge gathering of polo enthusiasts, alumni and students Lawrence School. Rao Inderjit Singh, who himself is a Sanawarian rolled the ball to start the match. Rajesh Sahgal opened the account for Peace Stead and Satinder Garcha scored another goal in the 1st chukker. Jai Shergill opened the account for Parker Hall in the 2nd chukker Lt Col Navjit Sandhu and Gurpal Singh were other scorers for the team, while Rajesh Sahgal again scored a goal for Pease Stead. In the 3rd chukker Satinder Garcha scored a goal for Peace Stead. In the last chukker Jai Shergill scored one goal for Parker Hall while Angad Kalaan scored a goal for Peace Stead. The final score was 5 goals 4 in favour of Peace Stead.
Score Board
Sanawar Polo Trophy
Feb 8, 2009
WINNER: PEACE STEAD
Date
Pool
Time
Teams
Venue
Score
Winner
Feb 8
3:30pm
Parker Hall Vs Peace Stead
JPG
5 - 4
Peace Stead
AEC - Army Equestrian Centre, JPG - Jaipur Polo Ground

Sanawar Polo Trophy

TEAMS
PARKER HALL
PEACE STEAD
1. Mr Angad Singh (H)
2. Mr Gurpal Singh Sandhu (H)
3. Mr Jai Shergill (S)
Bk. Lt Col Navjit Singh Sandhu (N)
+0
+1
+2
+4
1. Mr Gaurav Sahgal
2. Mr Rajesh Sahgal
3. Mr Satinder Garcha (N)
Bk. Mr Angad Kalaan (V)
+2
+1
+2
+5
Total
+7
Total
+1

0