Articles that appeared in Polo Times Magazine:
> Oct 2008 Issue
> Nov/Dec 2008 Issue
> Jan/Feb 2009 Issue
> Mar 2009 Issue
> Apr 2009 Issue
> May 2010 Issue


Details on:

Delhi (Oct/Dec) Polo Season 2008 - 2009
Nov 20 - Dec 14, 2008
APRC Challenge Cup (8 Goals)
Nov 27 - 30, 2008
Sunday November 30, 2008
Jaipur Polo Company defeated Sahgal Stud / Simbhaoli in a close game to win the APRC Challenge Cup (8 goal) played at the AEC Polo Ground in New Delhi.
The final was a very, very fast moving and exciting game. Both teams had players who enjoyed a quick paced format. By the end of the 2nd chukker JPC were leading with a score of 4 - 2. In the 3rd chukkar Manupal godara, the star player for the Sahgal Stud / Simbhaoli team, struck two quick goals. The first one was an under the nexk shot from 80 yards away when a JPC player missed the ball while trying a cut shot to turn the ball away from their own goal. The second goal was a penalty taken by Manu. he score was tied at 4 - 4. Later in the same chukker Simran Shergill, who played an incredible game, converted one for JPC. At the end of the 3rd chukker JPC led Sahgal Stud / Simbhaoli by 5 goals to 4. In the 4th chukker Sahgal Stud once again scored a goal to equalise. JPC responded by 2 quick goals to take the lead 7 - 5. However, Sahgal Stud were not done. They score a goal to reduce the margin to one goal. With 40 seconds remaining Manupal made a run for the goal and passed the ball to Gaurav Sahgal who was about 10 yards from the goal and in a scoring position which would have tied the game. howver, a foul was blown by the umpires and it went in favour of JPC. JPC won the game 7 - 6.
Abhimanu Pathak, and Varun (Timmy) Sharma both played and incredible game. Their combination with Simran Shergill took the game away from Sahgal Stud / Simbhaoli where Manu and father/son Sahgals played well too but could not overcome the JPC team.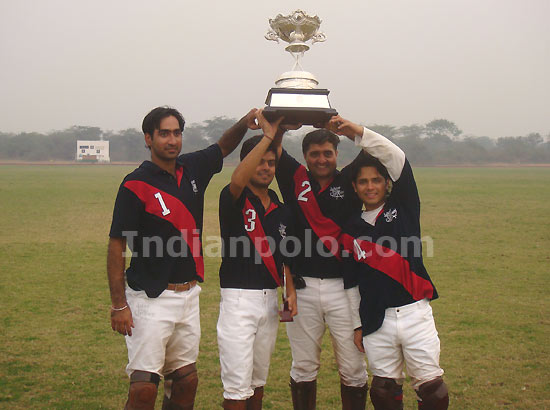 Score Board


APRC Challenge

Cup - (8 Goals)
Nov 27 - 30, 2008
WINNER: Jaipur Polo Company
Date
Pool
Time
Teams
Venue
Score
Winner
Nov 27
B

2:30pm
Jaipur Polo Company Vs Devlali/Rickstone

AEC
9 - 5
JPC

Nov 27
A
3:30pm
ASC Vs Sahgal Stud / Simbhaoli
AEC
7.5 - 7
Sahgal Stud / Simbhaoli
Nov 28
A
3:30pm
Positive Vs ASC
AEC
9 - 5
ASC
Nov 29
A
2:15pm
Positive Vs Sahgal Stud / Simbhaoli
AEC
10 - 4
Sahgal Stud / Simbhaoli
Nov 29
B
3:30pm
Jaipur Polo Company Vs Devlali/Rickstone
AEC
9 -3
Jaipur Polo Company
Nov 30
Final
3:30pm
Jaipur Polo Company Vs Sahgal Stud / Simbhaoli
AEC
7 - 6
Jaipur Polo Company
AEC - Army Equestrian Centre
APRC Challenge Cup (8 Goals)

TEAMS
POOL A
POOL B
ARMY SERVICE CORPS
JAIPUR POLO COMPANY
1. Akhil Sirohi
2. Lt Col BS Grewal
3. Maj Ravi Rathore
Bk Lt Col GS Pandher, SM
+2
+1
+3
+2
1. Mr Bhupendra Singh
2. Mr Abhimanyu Pathak
3. Mr Simran Shergill
Bk. Mr Varun Sharma
+1
+2
+3
+1
Total
+8
Total
+7
POSITIVE

DEVLALI / RICKSTONE

1. Mr Amer Warsi
2. Mr Baljinder Dhillon
3. Mr Jagat Singh
Bk Mr Angad Kalaan
-2
+0
+1
+5
1. Mr Deepankar Sharma / Rishi
2. Maj A Samantaray
3. Lt Col JS Shekhawat
Bk Samir Suhag
0/-1
+1
+2
+5
Total
+4
Total
+7
SAHGAL STUD/SIMBHAOLI
1. Mr Angad Singh
2. Mr Gaurav Sahgal
3. Mr Manupal Godara
Bk.Mr Rajesh Sahgal
+0
+2
+4
+1
Total
+7