Articles that appeared in Polo Times Magazine:
> Oct 2008 Issue
> Nov/Dec 2008 Issue
> Jan/Feb 2009 Issue
> Mar 2009 Issue
> Apr 2009 Issue
> May 2010 Issue


Details on:

Delhi (Oct/Dec) Polo Season 2007 - 2008
Oct 15 - Dec 16, 2007
Baria Cup (4 Goals)
Nov 8 - 30, 2007
November 30, 2007
Sahgal Stud defeated Arty in the Final of the Baria Cup in New Delhi at the AEC polo ground in New Delhi.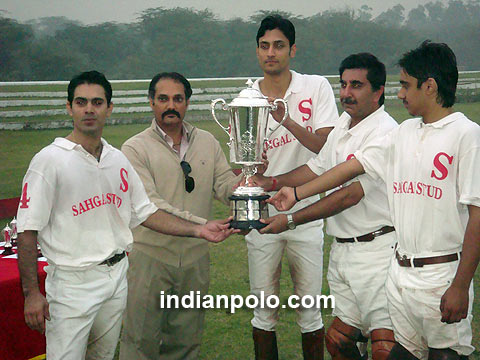 The Final match between Sahgal Stud and Arty was a very hard fought match. Capt Sameer Chaudhary scored the opening goal for Arty who started with 1/2 goal on handicap. Rajesh Sahgal converted a penalty for the Sahgal Stud in the first chukker. Sahgal Stud scored 2 goals each in the 2nd, 3rd and 4th chukkker whereas Arty scored one goal in 3rd chukker and 3 goals in 4th chukker. The final score was 7 to 5.5 in favour of Sahgal Stud. Scorers for Sahgal Stud: Rajesh Sahgal (2), Dhruvpal Godara (1), Gaurav Sahgal (3), Deepankar Sharma (1). Scorers for Arty: Bhawani Singh Kalvi (2), Lt Col JS Shekhawat (1), Capt Sameer Chaudhary (2) and started with 1/2 goal on handicap.
Score Board
Baria Cup - (4 Goals)
Nov 8 - Dec 1, 2007
WINNER:
SAHGAL STUD
TEAMS

ROUND 1

QUARTER FINAL

SEMI FINAL

FINAL

RVC
BYE
Nov 14
ARTY (5.5-4)
Nov 19
ARTY (3.5-3)
Nov 30 4:00 pm
SAHGAL STUD
(7 - 5.5)

ADAM
Nov 8
ARTY (8-2)
ARTY
APRC (GREEN)
Nov 13
Air France (5.5-5)
Nov 15
Sona Polo (6-5.5)
AIR FRANCE
SONA POLO
Nov 12
Sona Polo (8-5)
APRC (BLACK)
PBG
Nov 10
PBG (8-3)
Nov 19
Sahgal Stud (4-3)
Nov 27
Sahgal Stud (4-3)
RANGERS
SAHGAL STUD
Nov 12
Sahgal Stud (6-4)
ASC
NDA/ASPEN CREW
BYE
Nov 12
NDA/Aspen (5-4.5)
NAVY
BYE
AEC - Army Equestrian Centre, JPG - Jaipur Polo Ground





BARIA CUP (4 GOAL) TEAMS


RVC
PBG

1. Mr Bhanu Pratap Singh
2. Col SS Kashyap
3. Capt Vishal Chauhan
4. Mr Jai Shergill

-1
+1
+2
+2

1. Mr Sanjay Aggarwal
2. Lt Col Sanjay Bhatia
3. Mr Samir Suhag
4. Col Adil Ali Mahmood

0
-1
+5
0

+4

+4

ADAM
RANGERS

1. Another
2. Maj Faiz Siddiqui
3. Mr AmirZS Pasrich
4. Mr Mickey Gupta


0
+1
+1

1. Mr Abhimanyu Prakash
2. Lt Sharad Saxena
3. Capt Jaideep Singh
4. Maj Saurabh Saharan

-2
-1
+1
0

+2

-2

ARTY

SAHGAL STUD

1. Mr Hitendra Joshi
2. Capt Sameer Chaudhary
3. Mr Bhawani Singh Kalvi
4. Lt Col JS Shekhawat

-2
+1
+2
+2

1. Mr Deepankar Sharma
2. Mr Gaurav Sahgal
3. Mr Dhruvpal Godara
4. Mr Rajesh Sahgal

-2
0
+4
+2

+3

+4

APRC (GREEN)

ASC

1. Mr Amer Warsi
2. Mr KS Gill
3. Mr Aroonpal Singh
4. Mr Kelvin Johnson

-2
0
+2
+4

1. Mr Rishi Vashisht
2. Maj GS Pandher
3. Lt Col NS Khera
4. Col Tarsem Singh

-2
+2
+2
+2

+4

+4

AIR FRANCE

NDA/ASPEN CREW

1. Ms Carine Barbe
2. Mr Anirudh Singh
3. Mr Deepak Udar
4. Lt Col Tarun Sirohi

-2
-2
0
+3

1. Cdt P Phule
2. Mr Ankush Gulati
3. Maj Navjit Sandhu
4. Lt Col Atul Gupta

-2
0
+3
+3

-1

+4

SONA POLO

NAVY

1. Mr Angad Singh
2. Mr Bhupender Singh
3. Mr Jagat Singh
4. Mr Abhimanyu Pathak

0
+1
+1
+2

1. Lt AK Panchal
2. Mr Baljidner Dhillon
3. Mr Amit Sangwan
4. Mr Simran Shergill

-1
0
+1
+3

-1

+3

APRC (BLACK)

1 CdtA Malik/Cdt Aman Singh
2. Mr Ishan Singh
3. Mr IJ Singh
4. Maj Ravi Rathore

-2
-2
-1
+3

-2