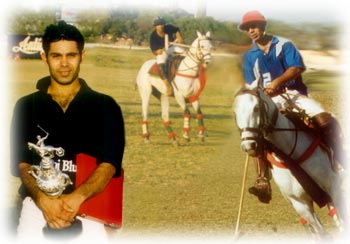 One of the rising stars of our first generation of professional polo players, Dhruv Pal Godara, 24 years old, with a mischievous twinkle in his eye, smiles and says," I grew up watching my elder brother, Manupal, play polo and I was very jealous of him. Whatever he did, I wanted to do better; he has been my idol and my biggest supporter. We fight like mad on the ground, but we have an understanding, that surprises everyone. We help each other out and complement each other."

Dhruv Pal started riding at a young age under the guidance of his father, who himself was a polo player. As a young child, he had a bad fall and never went near a horse again till he was thirteen. Then he was schooled in dressage, show jumping and eventing, but polo beckoned this young teenager. At fifteen, he took part in the junior IPA, played at the Indian Military Academy in Dehardun. Dhruv laughs and says, " We lost by one goal, as I scored a self goal for the opposing team. Everyone in my team was ready to kill me!" Today Dhruv Pal has come a long way, maturing into one of the finest players of our country.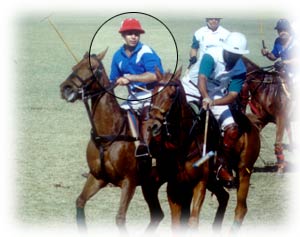 When asked on his playing style, he says," I like aggression, I keep the pep up!" Most people who know him would say he keeps the pep up, on and off the ground. He is at his best in a fast game that showcases his ability to make swift accurate plays. He is a forward player who rarely misses the ball once passed to him, making him a valuable team player.
Dhruv Palís first season was in Calcutta, where he played and won his first tournament with his brother, Manupal, Abhishek Tapuriah and K.V. Singh, playing as the Oberoi Team. The Calcutta Polo Ground was where he won his first IPA Open playing with Manupal, Vishal Singh and Lokendra Singh. He has been part of the Indian team for the last three world cups, played in St. Moritz, Switzerland and twice in Australia. He recalls his first trip to Lisbon, Portugal, with much amusement, saying, " I lost my passport three times! The other team mates kept following me around after that, not taking a chance to let me lose anything again."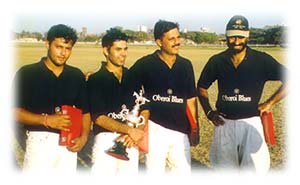 On his memorable wins, he recalls winning an Open in Jaipur, where they played as an all Indian 15 goal team against the Kashmir 20 goal team strengthened with Carlos Urrea +7. The Kashmir team was the team tipped to win the tournament, but they surprised everyone and defeated them.
Dhruvpal feels fitness is very important for a polo player.He has tailor made a routine for himself that includes jogging, lightweight training and crunches everyday, that helps keep him in form. He admits the toughest part of being a polo player is being disciplined, having an early night when you want to party but he manages somehow.
Dhruvpalís coach has been his father; he owes his success to him. He is his biggest critic too, as after a match where he thought he had a brilliant game, his father would tell him, "You played like a dud!"" My father always made me try harder and having an elder brother who was one of the best players in the country made me set my standard higher." Dhruvpal likes coaching young Indian players, he feels he would like to give back something to Indian polo.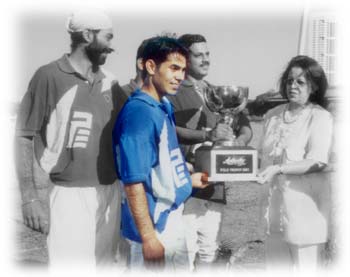 When asked if women react to him when he says he is a polo player, he looks very innocent and says," No, not really." But after much prodding he laughs and says, "It does make a difference!" If he were not a professional polo player he would be a farmer. He enjoys spending time at his family home in Abhor, Punjab, where he is surrounded by lush green fields, orchards and paddocks where he trains his polo ponies.
Dhruvpal feels Indian polo can improve only with more interaction with players abroad, travelling abroad and playing a season as a team there. Dhruvpal is a young and talented player with potential to rise even higher. With a faraway look in his eyes, he says, "My dream is to play the Argentine Open someday."