Articles that appeared in Polo Times Magazine:
> Oct 2008 Issue
> Nov/Dec 2008 Issue
> Jan/Feb 2009 Issue
> Mar 2009 Issue
> Apr 2009 Issue
> May 2010 Issue


Details on:

Polo Cups and Trophies
M & G Area Cup 2001
Mumbai
M & G Area Team easily win M & G Area Cup at Mumbai (Mon Mar 19)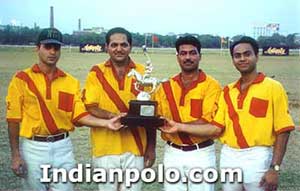 The M & G Area Cup was played on Monday Mar 19 between the Amateur Riders Team and the M & G Area Team.
ARC was represented by (Shyam Mariwala, Mitesh Mehta, Raj Shroff, and Harsh Piramal). The M & G Area team comprised of (Lt. Col. YK Singh, Capt JS Shekhawat, Capt Sangram Singh, and Abhishek Tapuriah). The M&G area team outplayed the ARC team and scored goals at regular intervals. Lt Col YK Singh led the attack with a lot of support from Sangram and Shekhawat, with Abhishek trying to neutralize the opponent. By the end of the 3th Chukkar M & G Area team was comfortably ahead by 5 goals. At one point it seemed like ARC was staging a comeback with a couple of gooad goals by Harsh Piramal, however, ARC missed three crucial goals which would have put them right back in the game.