Polo Portraits

Shivina introduces you to the players who made a mark on the game. Click Here ...
Current Events



Arena Polo Tournament. Indianpolo.com Vs. Team Green, Mumbai
by Staff

The Final of the 1st Arena Tournament of the season were played in Mumbai on Saturday December 1, 2001 between the Indianpolo.com team and Team Green.

INDIANPOLO.COM
Dinyar Madon +1
Raj Shroff +2
Riyhad Kundanmal +0

TEAM GREEN
Lt AP Singh +1
Abhishek Tapuriah +1
Mahendra Rai +0

Umpires: Mitesh Mehta, Vicky Nihilani
Refree: Suresh Tapuriah, Cdr Samra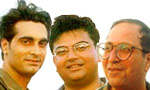 The match was expected to be a close game, however it ended up being a one sided game. The Indianpolo.com team took the lead in the first few minutes of the 1st chukkar and never looked back. They led 6 - 2 at the end of the 1st chukkar. In the 2nd and final chukkar they increased their lead. Team Green could only manage 1 goal in the 2nd chukkar.



Indianpolo.com won the tournament 9 - 3.

The match was followed by the prize distribution and snacks.
View Item Listing&nbsp&nbsp&nbsp&nbsp Add Item