Manipur Polo

| History of Polo in Imphal | Tournaments | Manipur Horse Riding & Polo Association |
Manipur Horse Riding And Polo Association
Manipur Horse Riding and Polo Association was established in 1977. The objectives of the Association was to promote the popular game (Polo) to its original standard by raising the professional level, to ensure the survival of the original polo pony-the Manipuri Pony and to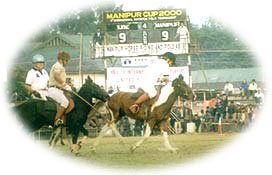 educate the young Manipuris the need of preserving this game as a sport and take it up as a profession.
The Association is purely a voluntary Organization. The expenses of the association are met through contributions from its members and non members, material and non material services rendered by other sport loving Organisations and direct resource mobilization through charities, meals etc. The Association is an affiliated of the India Polo Association. Polo Clubs are affiliated to this Association.
The dedicated efforts of the Association has led to a large scale proliferation of polo Clubs and players in the state. The Associations has been instrumental in providing jobs to these players in the state govt. departments and also is the Indian Army. The Association played a pivotal role in the construction of the oldest Polo ground in the world. The Mapal Kangjebung at Imphal.