Ladakh Polo
| Polo in Ladakh: Origin | Polo Ground of Leh | Participation & Tournaments | Polo Rules in Ladakh |
Polo Ground of Leh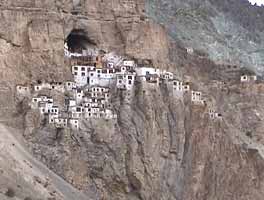 The Ladakh chronicle records the laying out of polo ground in Leh in 1885, however travellers account show that the game was being played up and down the main bazaar until well into the twentieth century.
Sengge Namgyal the King of Ladakh laid the first royal polo ground in the Murtse garden below Leh (now the site of Defence Ministry's Field Research Laboratory) in seventeenth century.
Languishing in and around Leh, polo revived from mid 1970 due to encouragement of district administration. Exhibition and tournament matches have been held regularly since then, and also as an integral part of annual Ladakh Festival.
The present polo ground in Leh is in the centre of the city adjoining DC's office. It is at the top of the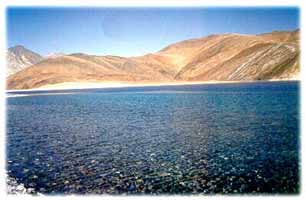 town, and from the grandstand spectators look across to the bare foothills of the Ladakh Range. To the left is the Leh Palace and crowning the peak behind it is the temple and ruined Leh Fort.
The matches are played in the late afternoon when the sun, slanting across the ground caste shadows that appear almost three dimensional against the golden clouds of dust raised by the drumming hooves. At the start and finish of play and to celebrate every goal special polo music is struck.