Ladakh Polo

| Polo in Ladakh: Origin | Polo Ground of Leh | Participation & Tournaments | Polo Rules in Ladakh |
Polo Rules in Ladakh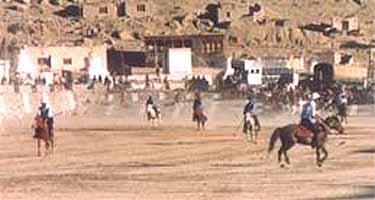 Polo as played in Baltistan, Gilgit, Hunza and Ladakh differs from the game as played internationally. Unlike the system of Chukkar - short period of six to eight minute into which the match is divided with a change of mount, here the game is played furiously and continuously and the ponies running as fast and as strongly as in the beginning of the match until either of the team scores nine goals. This has been amended to a twenty minutes halves with ten minutes break.
The most unfamiliar feature is after a goal, both the ends change automatically. The scorer gets the privilege to patch up the ball. He goes at a full gallop with the ball and stick until midway point then throws up the ball and shoots towards the goal with a clean, straight and perfectly controlled shot.
No polo match in Ladakh is complete without its musical accompaniment of SURNA and DAMAN. It is interesting to note that music varies according to fortune of the game accelerating in tempo and increasing in volume at he scoring of a goal.
The game of polo in Ladakh draws huge crowds, with people donning their traditional colourful costumes. It is a game of the masses, where the player is every thing combined into one, i.e. from stablehand to horse owner and finally the player. This is a test of human endurance, skills and horse strength to play continuously, unlike modern polo.