Ladakh Polo
| Polo in Ladakh: Origin | Polo Ground of Leh | Participation & Tournaments | Polo Rules in Ladakh |
Polo In Ladakh: Origin
Polo At 11,000 feet above sea level
Although, its origin is obscure, Polo has been, for centuries a popular sport of the rugged mountain valleys of Karakoram Ranges particularly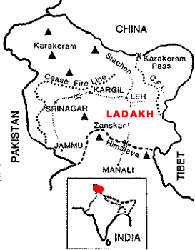 in remote and inaccessible Himalayan regions of Gilgit, Hunza, Skardu and Khapalu in Baltistan and Ladakh.
According to legends, the game of Polo came to Central Ladakh from neighbouring Baltistan, where for centuries, it used to be chief amusement. Historians date the introduction of Polo in Ladakh to king Jamyang Namgyal's reign in the 16th century who married Gyal Khatun, a princess from Baltistan. Apart from nobility, the game was popular in all the major villages of Ladakh, particular in Chushot village in the vicinity of Leh. In fact, all the major villages of Ladakh have their own Polo ground called 'SHAGARAN'.
Today in Ladakh, polo is more than a game, it is a part of cultural heritage.
Others aver that it was brought by the colony of Baltics, settled at Chushot. Chushot got its own polo ground where every year on March 21st polo is played to celebrate Nauraz, the Persian (and Shia) New Year.