World Polo at Werribee
By Chris Ashton
Sydney, Australia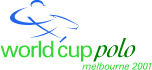 Sporting contests, at least international championships, are often no more than entertainment. That is if everything goes to plan. This is not the meat of human drama. Not unless top seeds are brought low; not unless underdogs triumph against all odds. Rarely does it happen, but it did at the 6th triennial World Polo Cup hosted by Australia at Melbourne's Werribee Park Equestrian Centre over ten days of (generally) glorious autumn sunshine.
Here eight teams-US, Canada, Italy, England, Brazil, Argentina, India and Australia, finalists from preliminary bouts contested in elsewhere by 24 countries-gathered with their entourages of manager-coaches, polo officials and well-wishers for a tournament run by the Australian Polo Council world polo's umbrella body, the Federation of International Polo (FIP).
(Given the variations in polo prowess between polo-playing countries, the tournament was played on handicap. All players worldwide are ranked annually by national polo officials. FIP proscribes a ceiling on the aggregate handicap of teams playing in the championship, to give each country a chance of winning.)
Many, probably most of the players were promising youngsters in their late teens or early 20s, hungry for personal and national glory, ambitious to mark as future professionals, and none too fussed how far they tested their borrowed mounts or the umpires---drawn from a pool of four polo professionals, New Zealanders to signify their neutrality.
To keep rein on this multi-national pool of high-octane testosterone-fueled youth, polo officials ran a tight ship. Throughout two days of practice matches preceding the tournament, the umpires' whistle seemingly never stopped. Canadian coach-manager "Corky" Linfoot, his own admission statistical analysis junky, estimated an average 27 penalties per game in the opening round, more than 30 per cent above norm for this level of polo.
Penalties were incurred for over-zealous riding-off, for transgressing the right of way on the line of the ball and arguing the toss on umpires' decisions. Umpires ordered players with exhausted ponies to leave the field for a fresh one.
At the nightly meeting of the tournament committee, which included the national coach/managers, complaints were aired that the Kiwi umpires were favouring their trans-Tasman neighbours. That was until the umpires were invited to face their critics. There were no further objections. As players adapted to the umpires' authority, the whistle-blowing abated. The games flowed more freely.
The President of FIP is Glen Holden, a tall, snowy-haired figure, a tyro of the US life insurance industry, former ambassador to Jamaica, benefactor to the arts, educational and civic activities and senior US polo official.
"Technical fouls were called early in the tournament and everyone got the message that they weren't going to be allowed to swear at the umpire," he recalled. "Of course it's exciting to have people ride fast and run into other players but we're just not going to allow that sort of thing. We told the umpires they should call against all appeals and bad bumps. It was vital for them to take control of the game. We all have sons or friends or friends of sons who have been disabled [in polo accidents] for life. I think the umpires are doing a wonderful job."
And of the 300 polo ponies borrowed from Australian players he continued: "It's absolutely colossal what Australia has done horse-wise. Not only did they mount more teams with more horses than ever before, but this is the best lot of horses we have ever seen both for their playing ability and their looks. That stands out above everything else."
"Corky" Linfoot echoed the FIP President: "There is no individual here who has been to any other FIP tournament who is in any doubt that these are the best horses, far and away, ever lent to a FIP tournament. There were 12 games in the first round, four in the semi-finals and two on the final day. Most of them were being asked to do more than anything they've ever done before. They were magnificent, and the people who lent them are the real heroes of the tournament."
As it progressed forecasts of the outcome, mine included, went bottom up. Witness Argentina, light years superior to any other country in its polo and three times winner of five previous five World Cups. This time, instead of building its team from scratch as for previous World Cups, it staged a 14-goal tournament, attracting 39 teams, with the winner (and three reserves) going to Melbourne. That brought young players unversed in international competition, playing unknown horses.
Argentina's difficulties were compounded in the first match when 20-year old Mariano Uranga was sidelined with a fractured skull. England, among the strongest teams in the competition, then lost its captain, Luke Tomlinson, with a broken thumb. Though his substitute, Jamie Le Hardy, played the game of his life against Argentina, defeating it by four goals, the English team was never the same.
A curious feature was the inter-generational links in so many teams, involving players, sponsors or coach-managers. Claire Tomlinson, formerly England's highest ranked woman player, coached its team, which included sons Luke, 24, and Mark, 17. The US team, coached by Steve Chowder, had his son Jason, 17. The Brazil squad, with Luiz, 17, and Sergio Junaqueira, was coached by their father Alberto.
The Italian team, which stayed afterwards to play at Sydney's Royal Easter Show and against Australia at the Warwick Farm Racecourse Easter International, included two Argentine players with Italian passports, Augustin and Juan Martin Nero, plus two Italians of the Rome Polo Club, bankrolled by the Nero brothers' father. The Canadians, funded by Fred Mannix Senior, included 17-year old Fred Mannix Junior. The Canadian team began preparations for the World Cup, playing in American medium-goal tournaments two years ago.
Compare this with Australia. Though a squad of about dozen was chosen late last year the team was named only five days before the World Cup tournament. How come? Because players had competing commitments for different polo patrons in other tournaments beforehand. Most of the team had played together previously, but no one watching their first World Cup match against Italy, (which Australia won narrowly and controversially), could imagine them going all the way. Indeed, Australia had never won a game in a World Cup final. But under coach Anto White of Belltrees, it grew with every game. In the semi-final against England, to universal astonishment, it won by two goals, and lost by a single goal to Brazil, the tournament favourite, in the grand final.
Said James Ashton, President of the Australian Polo Council and principal architect of the Melbourne World Cup: "They were rank outsiders, possibly 20 to one against reaching the semi-finals-let alone the finals." "Corky" Linfoot described the home team's style as "power polo" as distinct from "finesse polo": "They get down in the trenches and attack and attack and attack. They deny access. They started out the ugly duckling and sure as hell didn't turn into the beautiful swan. But they turned into a good-looking duck." Former Australian polo skipper Jim MacGinley judged Australian Damien Johnston the most supportive team-player of the tournament.
As the contest progressed---two matches every afternoon, apart from two rest days, and most final scores separating winners and losers by no more than a goal or two---you could sense a rising excitement. Where would all end?
The pity was that the triumph in pony power, tournament management and spectacle wasn't matched by its marketing and publicity. For the two principal days of Sunday polo the 2,800-seat public grandstand was never more than a fraction full, (though in mitigation I should add that, though the grand final was played in brilliant sunshine, unremitting rain through first early game took its toll on spectators.)
Supported by the Victorian Government's Major Events Corporation, the Melbourne office of event management agency, Octagon, enlisted such brand names as RM Williams, Omega Watches, Cascade Lager, Mumm Champagne, Emirate Airlines, Crown Towers, the Mansion Hotel and its sibling company Shadowfax Wines to sponsor the event. But with a minimum gate charge of $50 pp for the grand final, and $440 pp for the gala ball (later reduced to $250) its pricing strategy sent a signal to back off unless you were loaded. That wasn't the signal the polo community wanted.
As to publicity, apart from an splendid in-depth 30-minute documentary on Amanda Smith's Sports Factor program on ABC-Radio National, media commentary was largely bland, poorly researched and obsessed with polo's "elite" image. In the Sydney media it was all but invisible.
The international polo community will recall Melbourne as the best mounted World Cup in its history, unlikely ever to be matched. At a meeting of the FIP General Assembly in the Werribee Park Mansion Hotel, a consortium of five European countries-France, Britain, Italy, Germany and Switzerland-applied for the next World Cup in September 2004. The caravan moves on.
To contribute articles, stories, jokes please send them to info@indianpolo.com. Please includes your name, e-mail address, other contact details and source of article.