Jaipur Riding and Polo Club

The Jaipur Polo and Riding Club once again revives the echoes of Jaipur's golden age of equestrian glory. The facility has been set up by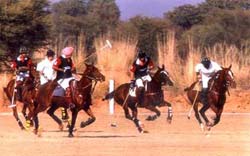 Col. Kuldeep Garcha, a well-known polo player from India and presently the coach of the Indian National team. Maharani Gayatri Devi of Jaipur is the chief-patron of the club. Col Garcha brings with him four decades of international polo exposure to make this facility a unique one. You can learn and play polo, ride along interesting trails, or simply enjoy a peaceful holiday at the resort.
Colonel K.S. Garcha, The man behind the Jaipur Polo and Riding Club, has been one of India's foremost polo players. Commissioned into the 61st Cavalry, the last remaining horsed cavalry

regiment in the world, he was amongst the topmost polo players of the Indian Army attaining a handicap of five goals. He captained the Indian Polo Team on a number of occasions and was awarded the coveted Arjuna Award, India's highest national award for outstanding sportsmen.

Apart from being an outstanding polo player, he is also a coach of the highest caliber and brings all his experience to bear in all equestrian activities of the facility. At present, he is the National Coach for Polo.

Satinder Garcha following in his father's footsteps is today a keen polo player. Satinder is the founder director of Peoples.com - an IT company based in San Jose.
The Resort
The resort is complete with stables, a polo field, a swimming pool, & luxurious cottages.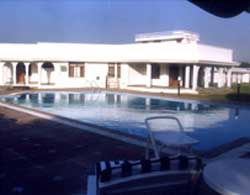 Home of the fabled Rajput warrior clans of north India, whose sagas of valour and chivalry are legend, Jaipur is a mere five hours drive from Delhi, the capital city of India. Situated on the outskirts of Jaipur, the fabled Pink City, the Club is located near Sirsi village, a mere 25 minute drive from the airport. The packages offered by the Club take you on a journey through time, to witness at first hand the last remaining vestiges of a forgotten age.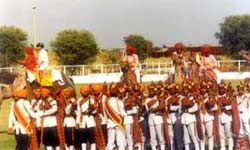 The Jaipur Polo and Riding Club can be reached:
By Air - The nearest airport to this place is Jaipur, about 25 minutes away. Daily flights to and from Delhi are available.
By Rail - The nearest railway station to Sirsi is Jaipur which is very well connected by train to the rest of the country.
By Road - The Jaipur Polo and Riding club is a 25 minute drive from Jaipur which itself is about 5 hours drive from Delhi. State run buses and private taxis regularly on this route.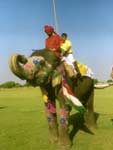 Jaipur has an unmatched polo tradition and the Jaipur Polo and Riding Club brings the thrill of polo back to Jaipur.